---
Pastor's Update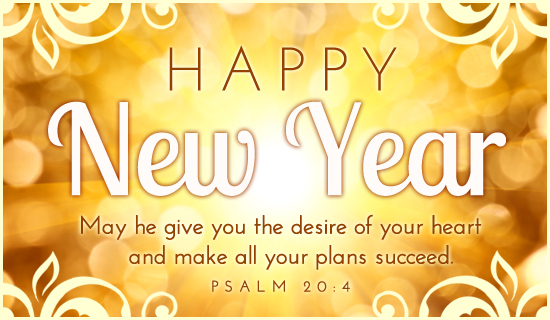 If you're like me, you tuned-in to watch the ball drop at Times Square in New York last night (actually, I went online for an east-coast feed of it, and saw it at 9:00 p.m.– being a new papa makes you tired!). It was great seeing all the crowds, the optimism, the music, the kissing at midnight, etc. I always get a happy feeling watching people celebrate the new year, hoping we can aspire to be the better people we want to be this year.
But I also noticed something else: the corporate sponsorships! My Goodness! New Years this year is brought to you by Nivea. By Toshiba. By Bud Light. By Disney. By Coca-Cola. Practically endless! Of course, holding the event in Times Square, which is pretty much the advertising center of the world, sets us up for such an emphasis. But do you think it was a coincidence that those companies wanted their logos and slogans to be connected to such a festive, optimistic, and forward-looking event? Not a chance! Each of those companies paid
millions
to have their logos beheld, with the hopes that people would go home with an inclination to buy their products.
Even the last song before the ball-drop was a rendition of John Lennon's "Imagine", where among other things, we are encouraged to imagine a utopian society with no religion and no concept of heaven. 'Come on!' I was thinking: 'how about a 2014
with
God!'
But, as a society, I think we've kind-of said "we can't seem to come to an understanding of which concept of God is right, or even if there is one, so we'll just do our public gatherings without addressing the issue", and I think, 'Well, okay, I understand that, but good luck in achieving all your hopes and aspirations without His blessing!'
So how should we be different? Rather than looking at products you put on your body, or bring into your mouths, to make it a great year, let's look to Christ, who gave us life in the first place! Rather than idealizing a united humanity with no hope of heaven, let's yearn for God's kingdom, where true unity will reign, given that the Enemy has been destroyed!
Of course, let's hope and strive for 2014 to be a great year, but even if it is, let's not have it keep our eyes from seeking a higher horizon, that of our Heavenly Hope with Jesus! It's a hope and a promise that we need more and more every year, as we see our loved ones pass away over time.
So I pray a New Year's blessing for all of you. I do pray that God will bless your households, your workplaces, your finances, and your plans. Remember; Jesus wants people to see our lives shining with example, and to turn and give the Father praise for it (Matt. 5:14-16), and this same Jesus guides us and blesses us today! (Hebrews 13:5,8)
So let's let this principle be what guides us in the new year. May God bless and draw near to each of your families.
---
Fellowship Hall inaugural meal and afternoon community
concert with the William Chunestudy men's chorus
Click on Pictures above for more pictures
---
Construction Progress Click Below:
---
---
Worship Schedule
Sabbath School will start at 10:00 AM-
Worship Service will Start at 11:15 AM
Pastor's Office Hours: If you would like to speak with Pastor Mark or arrange for a meeting appointment, you can e-mail him at tatumowski@yahoo.com, or call (760) 335-6588.



Church Calendar: our Church Board has been making exciting plans for the future of our church, and our calendar is looking quite full with exciting activities! You may see the church calendar on our website, at http://elc.adventistfaith.org/calendar-google-doc, and look through the next few months to see what activities we have coming ahead. We hope you plan on attending some of these exciting activities!
---
| | | |
| --- | --- | --- |
| | | |
| BEACH DAY | Teacher dedication | Zion National Park-Utah |
---
610 South 10th Street, El Centro, CA‎ - (760) 352-3545
El Centro Church Members can register to see restricted items:↓